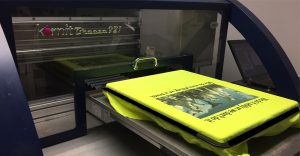 Direct to garment printing is one of the newest forms of apparel decorating. Direct to garment printers were developed to fill in the gaps left by the other garment decoration methods. For example, embroidery doesn't allow for photographic detail. Screen printing multiple colors is extremely expensive and requires high minimum order quantities due to the high set-up costs of each image. Heat transfers deliver a thick, rubbery feel to the graphic. Dye sublimation is appropriate only for 100% synthetic fabrics.
With direct to garment printing, each image prints digitally (similar to a paper printer), so there is no screen making, no messy clean up, and no color or minimum quantity limitations. Digitally printed graphics feel much softer on garments than any other method. The impression will last as long as the life of the shirt because the ink permanently adheres to the fabric.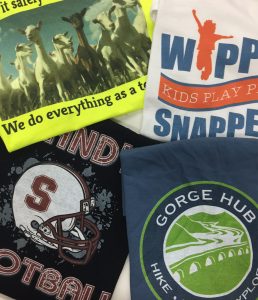 By using direct to garment printing there is little to no set up fees. The other advantage to direct to garment printing is no minimum orders. Printing 1 shirt or 100 is no problem.