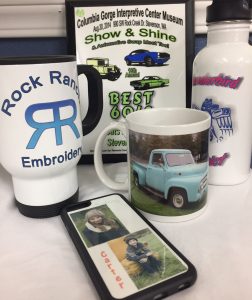 Dye Sublimation is a unique type of printing that is perfectly suited for items that the would find useful on a daily basis. The process produces a very durable and stable image whose colors stay bright and clear for a very long time.
The process works like this. A print is made using special inks and papers, The paper print is places on a specially coated item. Using high heat and pressure, the ink on the image turns from a solid to a gas and that "ink gas" becomes incorporated into the item, It binds to the object on the molecular level creating a long-lasting image that will be enjoyed for years to come.
Just a small sample of what items we have that can be sublimated.
Cellphone cases
Travel mugs
Coffee mugs
Water bottles
Award plaques
Ceramic Tiles
and so much more!